COMMUNITY
IS WHERE
We bring the Gospel to others and lead them to do the same
22 March 2023
- Community Lutheran Church
00

days

00

hours

00

minutes

00

seconds
Tears Tell The Story (Wednesdays)
God Will Wipe Away Every Tear (Sundays)
Our Lenten journey will be one of sorrow and grief but also hope and expectation.  As we head to the cross and the empty tomb, we are going to see that Tears Tell the Story of Jesus' passion.  We will see many people shed tears along the way and use that to focus our hearts and minds upon Christ and his suffering, death and resurrection for us.  We will also take some time to see that God Will Wipe Away Every Tear and that in Jesus he already has.  We will see that God has already in Christ dealt with our biggest and gravest enemies and problems.  it promises to be a tear jerker and the reason for tears of joy.  Join us every Wednesday and Sunday beginning Wednesday, February 22 for Tears Tell the Story and God Will Wipe Away Every Tear.  
Worship

Sundays 9:00am
Wednesdays 7:00pm
Join us and bring a friend for Holy Week Services at Community! Holy Week worship begins with Palm Sunday April 2nd at 9:00am, Maundy Thursday April 6th, 7:00pm, Good Friday April 7th, 7:00pm, and Easter Sunday April 9th at 9:00am. We cannot wait to see all of you and your loved ones at these services!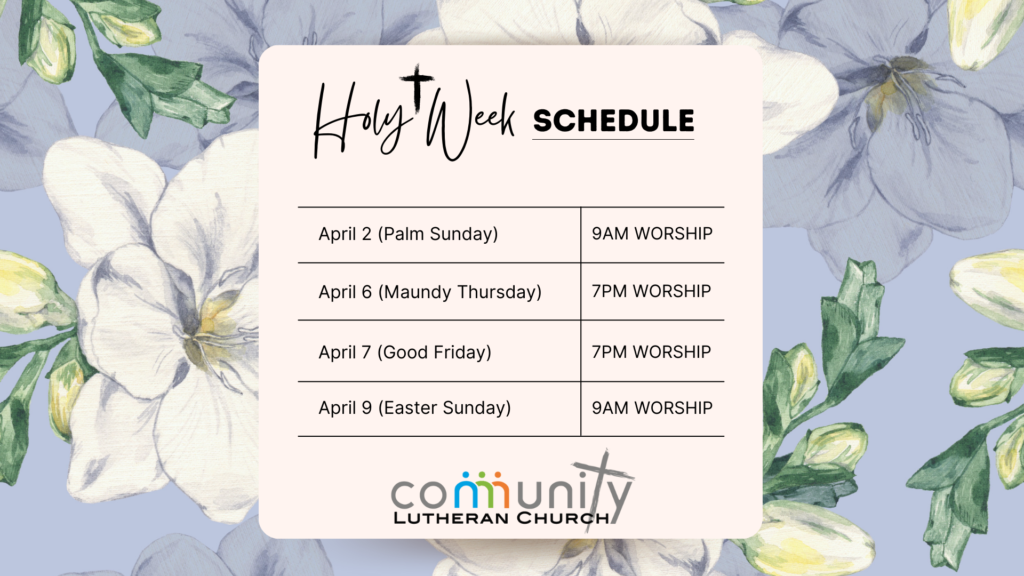 Worship
Join us and bring a friend for Holy Week Services at Community! Holy Week worship begins with
Read More »
Join us for a continental style potluck breakfast after service on Easter Sunday in the Life Center Gym for fellowship and fun! We hope to see you al there!
Spring Fling 2023
"The Roaring Twenties"
The twenties came roaring in and it's finally time to celebrate! Join us May 6th for our annual live auction gala, Spring Fling 2023. This year's theme is "The Roaring Twenties" so break out your dancing shoes and your finest bowler hat! We are asking for as much help with this event as possible and are counting on you to help us gather donations for the auction once again. Donation letters are located in the back hall by the information wall to be taken to local businesses asking for donations. Tickets for this event will go on sale in March. If you have any questions or would like to help with this event please reach out to Bob Almaguer 734-646-7262,
almagur@comcast.net
or Nancy Almaguer, 734-925-0800, nancy_almaguer@comcast.net.
Busy Mom's Bible Study Podcast
Moms, we get it, finding time to do ANYTHING is a task in itself. We know that we have to put our faith first, which is why we created Busy Moms Bible Study. It's a 10 minute podcast that you can listen to on the go for hope and inspiration. Come join us on Thursdays and listen to the word of God.