COMMUNITY
IS WHERE
We bring the Gospel to others and lead them to do the same
20 September 2023
- Community Lutheran Church
00

days

00

hours

00

minutes

00

seconds
Anxious Bondage
VS.
Confident Trust
"You cannot serve God and money" (Matt. 6:24–34), for they require two contrary forms of service. Worry is the worship given to the false god of mammon, an unbelieving anxiousness and focus on the things of this world. Faith is the worship of the true God, a confident trust that He is a loving Father who will care for all of our needs in both body and soul. The widow of Zarephath served God— that is, she believed the word of the Lord spoken by Elijah that the bin of flour would not be used up nor would the jar of oil run dry (1 Kings 17:8–16). He who feeds the birds and clothes the flowers will certainly provide for our daily needs. For He has already provided for our eternal needs, clothing us with Christ's righteousness in Baptism and feeding us His body and blood for our forgiveness. With such confidence we are liberated from worry and freed to do good with our material resources, especially to those who are of the household of faith (Gal. 5:25–6:10).
Worship

Sundays 9:00am
Wednesdays 7:00pm
You want to read through your Bible but you don't know where to begin? Don't worry, we have you covered! Each week we will provide a guide for verses to read daily at our services. Once a month we will meet after service to check in and answer any questions you may have. As always, feel free to reach out to Pastor Grenz if you have questions as well.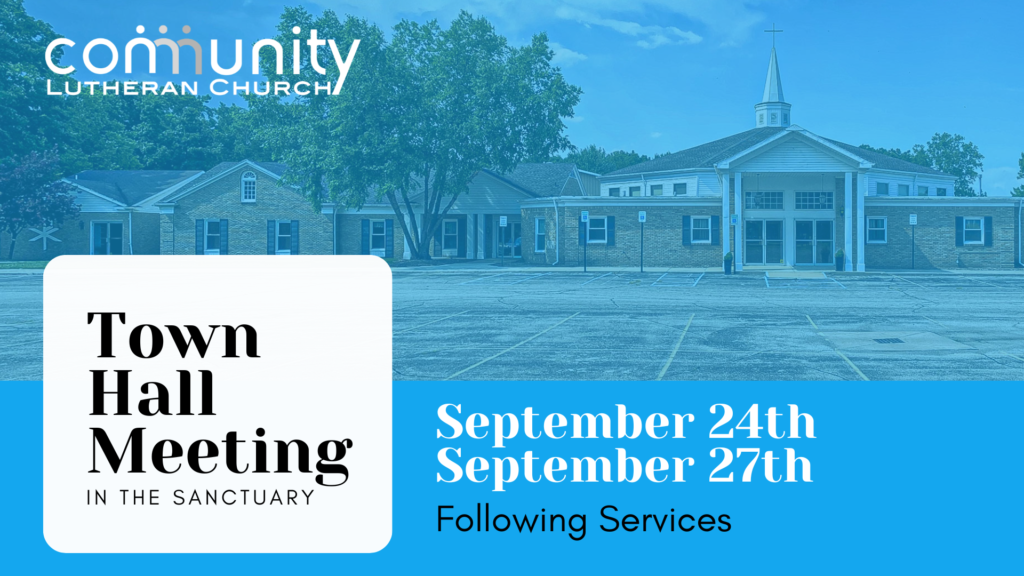 News
Join us on September 24th and 27th for a Town Hall Meeting where we will discuss the
Read More »
Join Us for a Spooktacular Trunk or Treat Event!
Get ready for a fantastic evening of Halloween fun! We are thrilled to invite you to our annual Trunk or Treat event, a gathering that promises thrills, chills, and loads of treats for the whole family.
October 26th from 6:30pm – 8pm  at Community Lutheran Church, 23984 Gibraltar Rd, Flat Rock, Mi 48134
What to Expect:
Decorated trunks filled with delicious candy and goodies will be lined up for the little ones to visit. 

Enjoy the sounds of the season with music that will set the perfect Halloween atmosphere.

Sip on warm apple cider and savor the sweetness of donuts – the perfect autumn treats to keep you warm and satisfied.
This event is open to the entire community, so be sure to invite your friends and neighbors for a night of Halloween fun like no other. 
We can't wait to see you there, so mark your calendars and join us for a night of Halloween enchantment! Feel free to contact Pastor Grenz at GGrenz@clcflatrock.com for any inquiries or to volunteer or to host a trunk for this exciting event.
Let's make this a Halloween to remember!
A heartfelt thank you to Sheila Wellman and the dedicated team behind the success of Our Community FALL FEST! Your hard work and passion made this event truly special. To everyone who attended, your presence added joy to our day of fun, fellowship, and food. We appreciate your support in making this event a memorable one. Looking forward to more wonderful moments together in our community!
Busy Mom's Bible Study Podcast
Moms, we get it, finding time to do ANYTHING is a task in itself. We know that we have to put our faith first, which is why we created Busy Moms Bible Study. It's a 10 minute podcast that you can listen to on the go for hope and inspiration. Come join us on Thursdays and listen to the word of God.