COMMUNITY
IS WHERE
We bring the Gospel to others and lead them to do the same
7 June 2023
- Community Lutheran Church
00

days

00

hours

00

minutes

00

seconds
The Kingdom Of God In Acts
The Beginning Of The Church
The beginning of the book of acts overlaps the ascension account recorded in the gospel of Luke. In acts, however, the author emphasizes Jesus' command for his disciples to wait in Jerusalem for the coming of the Holy Spirit. As they wait, they select another individual to replace the position of the 12th apostle vacated by Judas as a result of his suicide. By relying on God's guidance, they cast lots and choose Matthias. 10 days after Jesus ascension into heaven, the disciples received the Holy Spirit in a spectacular fashion. The spirit arrives in the gust of wind and in the presence of tongues of fire which rests on the apostles heads. The apostles are empowered to preach god's word in various languages of the world. And they are emboldened to courageously proclaim the life, death, and resurrection of Jesus Christ. Consequently, many people convert to Christianity. As evidence of the spirits power among them, the Christians live in harmony, daily worshipping the Lord.
Worship

Sundays 9:00am
Wednesdays 7:00pm
You want to read through your Bible but you don't know where to begin? Don't worry, we have you covered! Each week Pastor Grenz will stay after service for a brief instruction time going over the week's Bible Reading Plan. In this 10-15 minute meeting each week, you will gain all of the tools you need to successfully read through your Bible and learn God's word at home.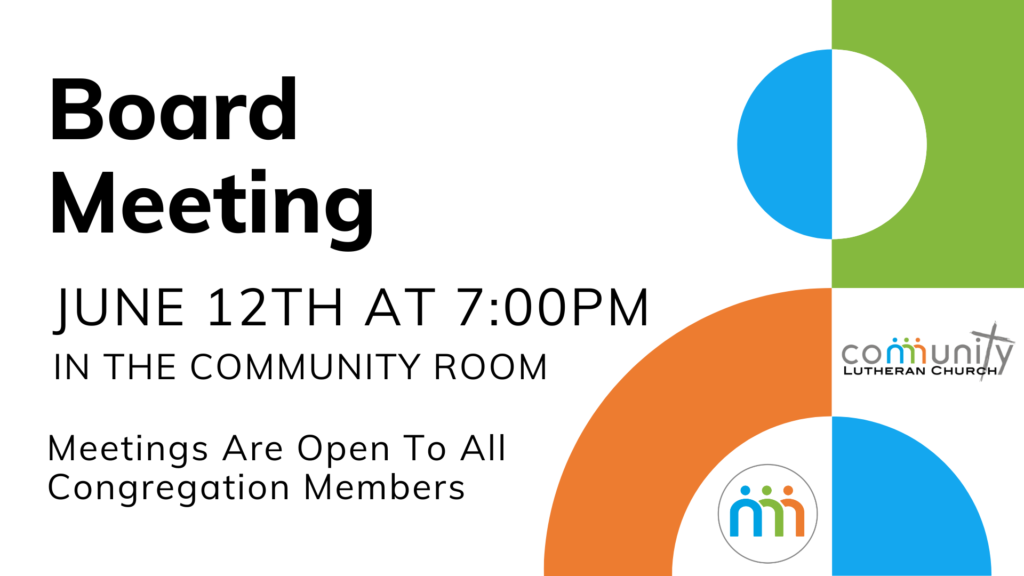 Serve
This is a reminder that the board meetings at Community are open for every member in our
Read More »
Busy Mom's Bible Study Podcast
Moms, we get it, finding time to do ANYTHING is a task in itself. We know that we have to put our faith first, which is why we created Busy Moms Bible Study. It's a 10 minute podcast that you can listen to on the go for hope and inspiration. Come join us on Thursdays and listen to the word of God.